Comments on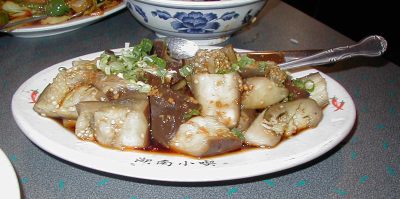 Item # 59:
Eggplant Salad
Price: $6.05
Date completed: Wednesday April 16th, 2003
A lot has happened since the last review. I hear there was some article in the paper about this site. I was out of town in Maui. You see, Jer was getting married there. A couple of people saw fit to write their own reviews for me for this and the next dish. At first, of course, I was really angry about it. But then I thought that I should be flattered. It's like when people write fan fiction based on their favorite author's work. Maybe this means I really hit the big time!

Uh, whatever, Moss. So anyway, this dish, the last of the salads, is definitely just a side dish and not a meal on its own. But the thing is, you can't really tell by what's written on the menu. The other two salads were good, heterogeneous compositions that doggone it, made a good meal on their own. So I would assume then that the other dishes under "Salads" would be the same. Not really. So this one looks really good, thanks to the healthy does of sesame oil on it. And the spicyness (i.e. garlic) is just about perfect. But it's just too mushy (and cold) to eat all by itself. If you like this eggplant, get the Sauteed Eggplant. Anywho, on to the lunch plates!!
Rating:
6
<<Back to the menu





If you're interested in what the guest review is, here it is:
Served cold, this dish would work better as an appetizer course. It's quite different from that which people would associate with a chinese meal. It's somewhat surprising, because one wouldn't expect this type of flavor. It's not an overwhelming dish; it's much more subtle than usual. It's not particularly greasy, but the taste is a bit weak. It is, however, perfectly cooked, although Diane thinks it may be a bit "seedy". By far, the high point of the eggplant salad is the sauce. Light, not too greasy, with a taste of vinegar/garlic soy sauce, this sauce would make a fabulous salad dressing or dipping sauce. To be fair, eggplant doesn't have much of a natural taste, but the sauce saved this dish from a lower grade, and makes this dish a 7.
Not a bad job!

(Note: This is a static page now, so you cannot post any new comments. Go to greasepig if you want to discuss anything.)